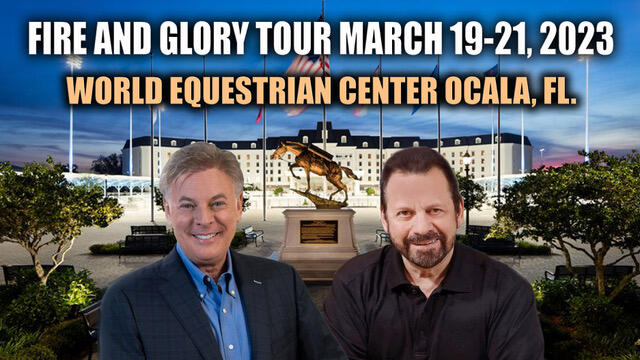 Fire & Glory Tour Ocala 2023
The Fire and Glory Tour moves to the World Equestrian Center in Ocala, Florida
Three Magical Days Coming In Ocala
Date And Time
Sunday March 19th. 6:30 pm
Monday March 20th 10:00 am and 7:00 pm
Tuesday March 21st 10:00 am and 7:00 pm
Location
The World Equestrian Center
1750 NW 80th Ave, Ocala, FL 34482
Book Your Hotel
Use our Smart Trip Tool to plan your trip. The revolutionary way to book hotels and flights while helping fund your organization! We believe travel should be about more than just getting from one place to another; it should be an opportunity to do something meaningful
Mario Murillo
A minister, blogger, and author of many books about Christians' spiritual life and spiritual growth.
Lance Wallnau
A author, speaker, host, world-class trainer, consultant and CEO Lance Learning Group
A Great Oppurtunity For All The Christians
If you're looking for an opportunity to experience the fire and glory of God, look no further than the Fire & Glory Tour in Ocala, Florida. This world-renowned event will feature Mario Murillo and Lance Wallnau, two of the most influential voices in the Christian community today. For three days, attendees will have the opportunity. Learn more about the Holy Spirit and what it means to live a life filled with purpose.
The World Equestrian Center
The World Equestrian Center is a major center of influence, and this event will be a key moment in its history. Be there to be part of this incredible experience. And this is a major center of guidance and the potential for an outpouring of the Holy Spirit is enormous. 
So this is a rare opportunity to experience the power and glory of God. And these three days are sure to be supernatural. Be there when the fire of God falls and changes us all forever.