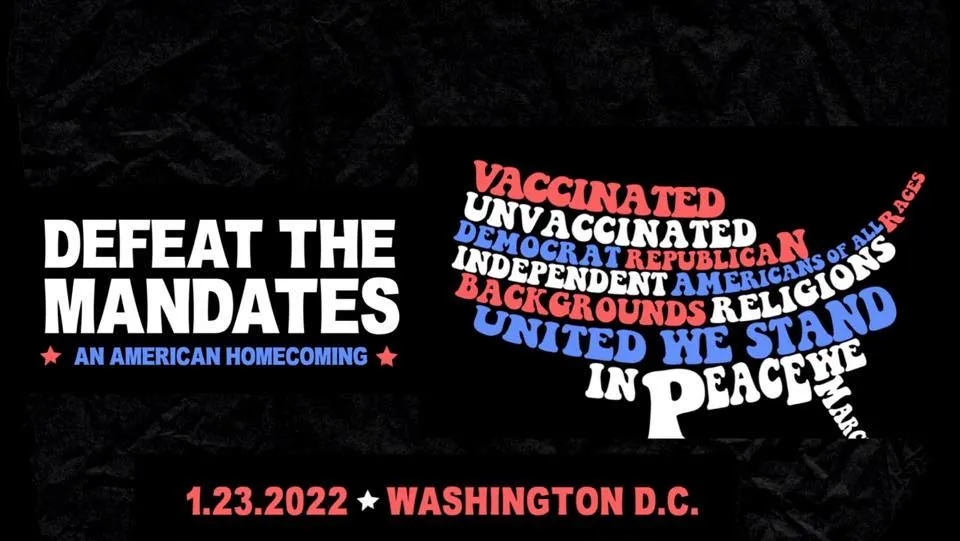 📅 Defeat the Mandates – VIEW Video of the Event
VIEW THE VIDEO OF THE Defeat the Mandates Event

UNITED WE STAND. IN PEACE WE MARCH.  
JANUARY 23rd, 2022.  Starts at the Washington Monument
Please arrive at the Washington Monument by 10:30am for the Defeat the Mandates Event.  Remember our mantra of peace and doing this united as one.
We start marching together to the Lincoln Memorial (approximately 1 mile) at 11:30am. At 12:30pm a wide range of featured guests will be waiting. Recording artists, prominent doctors, journalists, pro athletes, actors and premier thought leaders will give a series of inspiring talks and musical performances.
War Memorials – Moments of Silence & Prayer
Participants are encouraged to pause near the War Memorials along the route to remember those who have sacrificed lives and loved ones so that America might be free. The memorials along the route are the World War II Memorial, D.C. War Memorial, Korean War Veterans Memorial, and the Vietnam Veterans Memorial.
At noon, along the march route from the Washington Monument to the Lincoln Memorial, brief remarks by the StopVaxPassports.org Task Force co-chairs will be followed by prayer led by Save the Persecuted Christians.
To register for the DEFEAT THE MANDATES event, click on CONCIERGE tab
To find a hotel nearby or figure out the best way to travel
use our TravelingToGive tool and remember that every trip benefits the Pandemic Health Alliance
Plan your trip to the event by selecting I'm Staying, I'm Driving or I'm Flying  – for details and to register, click on CONCIERGE tab.
It is our time to step peacefully into history.  We are gathering together in peace and solidarity for the preservation of personal sovereignty and to STOP medical coercion, discrimination and mandates.
We encourage everyone to be virtuous and peaceful and to de-escalate conflict. Below are a few procedures to follow during the peaceful march to keep you safe.
The event is sponsored by Operation Freedom of Choice, American Frontline Nurses, Airline Employees for Health Freedom, Feds for Medical Freedom & JP Sears organization.
Speakers include Jp Sears,,Robert F. Kennedy Jr.,­­­­,Dr. Robert Malone,,Dr. Peter Mccullough,,Del Bigtree,,Kevin Jenkins,,Dr. Christina Parks,,Tricia Lindsey,,Dr. Paul Alexander,,Rizza Islam,,Rabbi Zev Epstein,,Dr. Pierre Kory,,Dr. Paul Marik,,Dr. Tess Lawrie,,Trammel Thompson,,Dr. Ryan Cole,,Dr.Jessica Rose,,Kwame Brown,,Angela Stanton King,,Max Blumenthal,,Jo Rose,,Will Witt,,Steve Kirsch,,Dr. Angelina Farella,,Hawk Newsome,,Rev. Aaron Lewis,,Dr. Aaron Kheriaty,,Dr. Richard Urso,,Trahern Crews,Chris Martenson,,Lara Logan,,Maureen Mcdonnell,,Ernest Ramirez,,Stephanie De Garay,,Kyle Warner,,Jayla Taveras,,Hi-Rez & Jimmy Levy,,Joseph Arthur,,Matt Brevner,,Five Times August
►For further questions about the conference event,
pricing or schedule, click HERE
► If you want a free tool like this for your association or event,

benefiting your preferred charity, check out our Partner Portal or  set up a call.